2001 eTopps
Description
2001 eTopps (stylized with a small "e" and a capital "T") was issued beginning in September, 2001. eTopps was distributed and marketed directly to the collectors via the internet with cards initially offered for sale exclusively at the eTopps website (www.eTopps.com).
Starting in late September, every week for about three months Topps released IPO's (aka Initial Player Offerings) on a handful of new eTopps cards. Eventually 75 2001 eTopps baseball cards were available. A pre-determined number of "shares" were given for each player based upon Topps estimation of player popularity (e.g. they offered 10,000 Ichiro I.P.O.'s and only 4000 for Rafael Furcal) at a price per card ranging from $3.50 to $9.50 per card - again based on perceived popularity. The one week IPO period was the only time these cards were ever offered for sale by Topps and Topps would only printed the exact amount of cards that were ordered during that window of time. Thus, even though Topps had offered 4000 shares of Jeff Bagwell, only 485 copies were ordered -- thus that's all they printed.
Collectors then had the option to have their cards held by Topps whereby they could automatically trade them to other collectors (much like one would buy and sell stocks) on the eTopps "floor" on thepit.com (which Topps spent $5.7 million to acquire), a special section of eBay created for this product, or have the card mailed to them.
However, most collectors never fully accepted the "virtual trading card" concept and most I.P.O.'s didn't come close to selling out.
In January, 2012, Topps suspended the eTopps program; however, collectors will still be able to sell and trade the cards on eBay and the eTopps website, and still have their cards delivered to them for a nominal fee.
With the values of most eTopps cards not worth the shipping and handling fees, all eTopps cards that were produced, but never delivered, remain in a warehouse in Delaware.
Checklist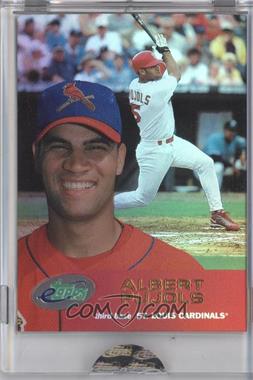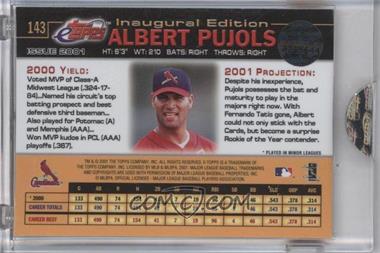 NOTES
Topps initially planned on issuing 150 eTopps cards in 2001, but only made half that amount. Therefore, the set is skip-numbered.
The production figures listed below were announced by Topps shortly after each card's I.P.O., but each card is NOT serial-numbered.
1 Nomar Garciaparra 1315
2 Chipper Jones 674
3 Jeff Bagwell 485
4 Randy Johnson 1499
7 Adam Dunn 4197
8 J.D. Drew 767
9 Larry Walker 420
10 Edgardo Alfonzo 338
11 Lance Berkman 595
12 Tony Gwynn 828
13 Andruw Jones 908
15 Troy Glaus 862
17 Sammy Sosa 2487
21 Darin Erstad 664
22 Barry Bonds 1567
27 Derek Jeter 1041
29 Curt Schilling 2125
30 Roberto Alomar 448
31 Luis Gonzalez 1104
32 Jimmy Rollins 1307
34 Joe Crede 1050
39 Sean Casey 537
46 Alex Rodriguez 2212
47 Tom Glavine 437
50 Jose Ortiz 738
51 Cal Ripken, Jr. 2201
52 Bob Abreu 677
55 Alex Escobar 931
56 Ivan Rodriguez 698
59 Jeff Kent 452
62 Rick Ankiel 752
65 Craig Biggio 410
66 Carlos Delgado 398
68 Greg Maddux 1031
69 Kerry Wood 1056
71 Todd Helton 978
72 Mariano Rivera 824
73 Jason Kendall 672
75 Scott Rolen 498
76 Kazuhiro Sasaki 5000
77 Roy Oswalt 915
78 C.C. Sabathia 1974
83 Brian Giles 400
87 Rafael Furcal 646
88 Mike Mussina 793
89 Gary Sheffield 359
92 Mark McGwire 2908
94 Tsuyoshi Shinjo 3000
99 Jose Vidro 443
100 Ichiro Suzuki 10000
105 Manny Ramirez 1074
109 Juan Gonzalez 558
112 Ken Griffey, Jr. 2398
114 Tim Hudson 663
115 Nick Johnson 1217
118 Jason Giambi 897
122 Rafael Palmeiro 464
124 Vladimir Guerrero 854
125 Vernon Wells 349
127 Roger Clemens 1462
128 Frank Thomas 834
129 Carlos Beltran 489
130 Pat Burrell 1253
131 Pedro Martinez 1038
132 Mike Piazza 1379
135 Luis Montanez 5000
140 Sean Burroughs 5000
141 Barry Zito 843
142 Bobby Bradley 5000
143 Albert Pujols 5000
144 Ben Sheets 1713
145 Alfonso Soriano 1699
146 Josh Hamilton 5000
147 Eric Munson 5000
150 Mark Mulder 4335