2000 Upper Deck Yankees Master Collection
Description
The 2000 Upper Deck Yankees Master Collection was released in early June, 2000. Each box set contains 37 cards. The box set includes a 25-card base set that is individually numbered to 500, an 11-card game-used bat set also serial-numbered to 500 and a one card mystery pack that includes various memorabilia and autographed cards. Each set comes inside of an elegant laser etched wooden case, emblazoned with a metallic Yankees logo.
Distribution
500 factory sets. (MSRP: $3000).
Reviews
Checklist
Base Set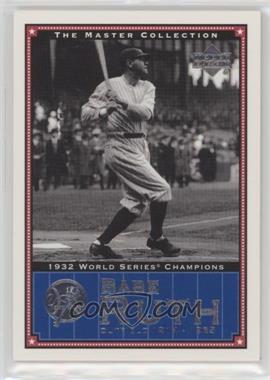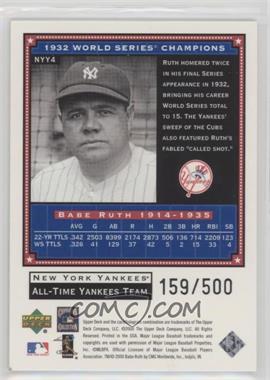 Each card is serial-numbered to 500 copies and came packaged inside a "snap-tite" holder.
NYY1 Babe Ruth
NYY2 Lou Gehrig
NYY3 Tony Lazzeri
NYY4 Babe Ruth
NYY5 Lou Gehrig
NYY6 Lefty Gomez
NYY7 Bill Dickey
NYY8 Bill Dickey
NYY9 Tommy Henrich
NYY10 Spud Chandler
NYY11 Tommy Henrich
NYY12 Phil Rizzuto
NYY13 Whitey Ford
NYY14 Yogi Berra
NYY15 Casey Stengel
NYY16 Billy Martin
NYY17 Don Larsen
NYY18 Elston Howard
NYY19 Roger Maris
NYY20 Mickey Mantle
NYY21 Reggie Jackson
NYY22 Bucky Dent
NYY23 Derek Jeter
NYY24 Derek Jeter
NYY25 Derek Jeter
Autographs & Game-Used
All-Time Yankees Game Bats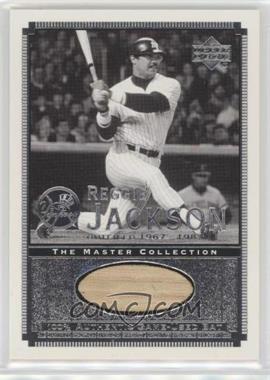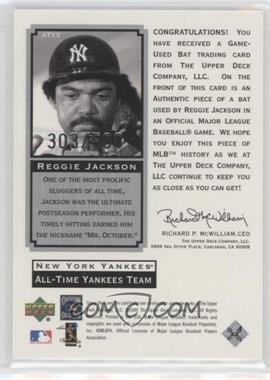 Each All-Time Yankees Game Bats is serial-numbered to 500 copies.
NOTE: Card #ATY-11 is NOT a game-bat card.
ATY1 Babe Ruth
ATY2 Mickey Mantle
ATY3 Reggie Jackson
ATY4 Don Mattingly
ATY5 Billy Martin
ATY6 Graig Nettles
ATY7 Derek Jeter
ATY8 Yogi Berra
ATY9 Thurman Munson
ATY10 Whitey Ford
ATY11 Lou Gehrig NO BAT
Mystery Pack Inserts
Each Master Collection came packaged with one "Mystery Pack," which yielded one of the cards listed below.
BM1-2 Billy Martin BAT CUT AU 2
BR1-3 Babe Ruth BAT CUT AU 3
MM1-7 Mickey Mantle BAT CUT AU 7
BRC1-3 Babe Ruth CUT AU 3
LGC1-3 Lou Gehrig CUT AU 3
TMC1-2 Thurman Munson CUT AU 2
DJ-B Derek Jeter BAT AU 100
DJ-J Derek Jeter JSY AU 100
RJ-B Reggie Jackson BAT AU 100
WF-J Whitey Ford BAT AU 100
YB-B Yogi Berra BAT AU 80