2000 Upper Deck Brooklyn Dodgers Master Collection
Description
2000 Upper Deck Brooklyn Dodgers Master Collection is a 15-card set released as a factory set in November, 2000. Each factory set also contains a complete 11-card Legends of Flatbush set and one Mystery Pack.
All base cards and Legends of Flatbush cards come encased in snap-tite holders and have matching serial-numbers. Only 250 serial-numbered sets were produced and each set was packaged in a wooden box.
Distribution
Factory sets only. Hobby only. (MSRP: $3000)
Reviews
Insertion Ratios
| Cards | Total Cards | Numbered To | Hobby Odds |
| --- | --- | --- | --- |
| Base | 15 | 250 | 15:1 |
| Legends of Flatbush | 11 | 250 | 11:1 |
| Mystery Pack | 1 | varies | one-per-pack |
Checklist
Each Base Set and Legends of Flatbush card is serial-numbered to 250 copies.
Promo
In lieu of a traditional promo card, Upper Deck sent out to dealers a mini baseball bat. Each bat came sealed in a plastic tube and is serial-numbered to 750.
Base Set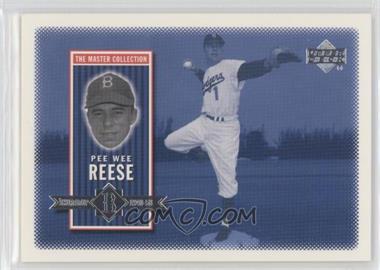 BD1 Jackie Robinson
BD2 Duke Snider
BD3 Pee Wee Reese
BD4 Gil Hodges
BD5 Carl Furillo
BD6 Don Newcombe
BD7 Sandy Koufax
BD8 Roy Campanella
BD9 Jim Gilliam
BD10 Don Drysdale
BD11 Sandy Amoros
BD12 Joe Black
BD13 Carl Erskine
BD14 Johnny Podres
BD15 Zach Wheat
Autographs & Game-Used
Legends of Flatbush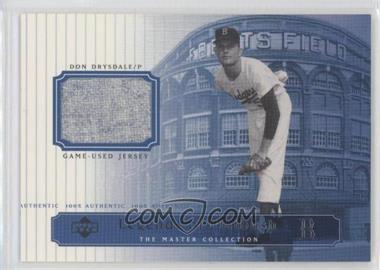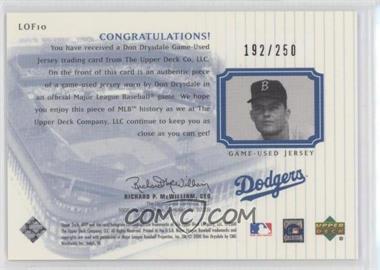 LOF1 Gil Hodges BAT
LOF2 Jackie Robinson BAT
LOF3 Pee Wee Reese BAT
LOF4 Jim Gilliam BAT
LOF5 Roy Campanella BAT
LOF6 Zach Wheat BAT
LOF7 Carl Furillo BAT
LOF8 Don Newcombe AU BAT
LOF9 Duke Snider AU BAT
LOF10 Don Drysdale JSY
LOF11 Sandy Koufax AU JSY
Mystery Pack Inserts
Each factory set comes with one Mystery Pack which yields one of the following cards.
SK-DD Sandy Koufax / Don Drysdale JSY/JSY 35
JR-GH Jackie Robinson / Gil Hodges BAT/BAT
DS-DN Snider / Don Newcombe BAT AU/BAT AU 25
DN-CF Don Newcombe / Carl Furillo BAT/BAT 35
GH-BC1-3 Gil Hodges BAT CUT 3
JR-BC1-5 Jackie Robinson BAT CUT 5
JR-DS Jackie Robinson / Duke Snider BAT/BAT 35
JR-PW Jackie Robinson / Pee Wee Reese BAT/BAT
JR-RC Jackie Robinson / Roy Campanella BAT/BAT
PW-BC1-8 Pee Wee Reese BAT CUT 8