2000 Topps Chrome Traded
Description
The 2000 Topps Chrome Traded set was released in October, 2000. Distributed exclusive as a factory set, the product features a 135-card base set. The checklist and cards mirror the 2000 Topps Traded set, except for the chromium card finish and that each Chrome set doesn't include any autographs.
This would be the second, and final, year Chrome Traded was packaged as a factory set. For 2001, both Topps Traded and Topps Chrome Traded would be bundled together in a traditional pack release.
Distribution
Topps Chrome Traded: Factory set exclusive (MSRP: $99.99). Hobby only.
Reviews
Checklist
Base Set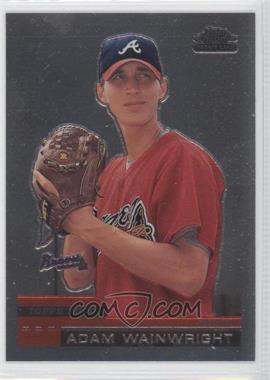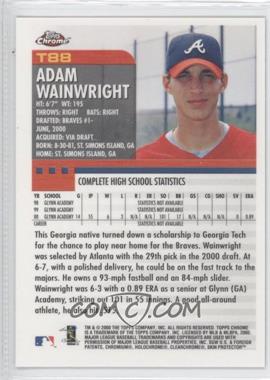 T1 Mike MacDougal
T2 Andy Tracy RC
T3 Brandon Phillips
T4 Brandon Inge
T5 Robbie Morrison
T6 Josh Pressley
T7 Todd Moser
T8 Rob Purvis RC*
T9 Chance Caple RC*
T10 Ben Sheets
T11 Russ Jacobson
T12 Brian Cole
T13 Brad Baker RC*
T14 Alex Cintron
T15 Lyle Overbay RC
T16 Mike Edwards
T17 Sean McGowan
T18 Jose Molina
T19 Marcos Castillo
T20 Josue Espada
T21 Alex Gordon
T22 Rob Pugmire
T23 Jason Stumm
T24 Ty Howington RC*
T25 Brett Myers
T26 Maicer Izturis
T27 John McDonald
T28 Wilfredo Rodriguez RC
T29 Carlos Zambrano
T30 Alejandro Diaz
T31 Geraldo Guzman RC
T32 J.R. House
T33 Elvin Nina
T34 Juan Pierre RC
T35 Ben Johnson
T36 Jeff Bailey
T37 Miguel Olivo
T38 Francisco Rodriguez RC
T39 Tony Pena, Jr. RC
T40 Miguel Cabrera
T41 Asdrubal Oropeza
T42 Junior Zamora
T43 Jovanny Cedeno
T44 John Sneed RC*
T45 Josh Kalinowski RC*
T46 Mike Young
T47 Rico Washington RC
T48 Chad Durbin
T49 Junior Brignac RC*
T50 Carlos Hernandez
T51 Cesar Izturis
T52 Oscar Salazar
T53 Pat Strange
T54 Rick Asadoorian RC*
T55 Keith Reed RC
T56 Leo Estrella
T57 Wascar Serrano RC
T58 Richard Gomez
T59 Ramon Santiago RC
T60 Jovanny Sosa
T61 Aaron Rowand RC
T62 Junior Guerrero
T63 Luis Terrero
T64 Brian Sanches
T65 Scott Sobkowiak RC
T66 Gary Majewski
T67 Barry Zito
T68 Ryan Christianson RC*
T69 Cristian Guerrero
T70 Tomas De La Rosa
T71 Andrew Beinbrink
T72 Ryan Knox
T73 Alex Graman
T74 Juan Guzman
T75 Ruben Salazar RC*
T76 Luis Matos RC
T77 Tony Mota
T78 Doug Davis
T79 Ben Christensen RC*
T80 Mike Lamb
T81 Adrian Gonzalez
T82 Mike Stodolka
T83 Adam Johnson
T84 Matt Wheatland RC*
T85 Corey Smith
T86 Rocco Baldelli
T87 Keith Bucktrot
T88 Adam Wainwright
T89 Scott Thorman
T90 Tripper Johnson
T91 Jim Edmonds
T92 Masato Yoshii
T93 Adam Kennedy
T94 Darryl Kile
T95 Mark McLemore
T96 Ricky Gutierrez
T97 Juan Gonzalez
T98 Melvin Mora
T99 Dante Bichette
T100 Lee Stevens
T101 Roger Cedeno
T102 John Olerud
T103 Eric Young
T104 Mickey Morandini
T105 Travis Lee
T106 Greg Vaughn
T107 Todd Zeile
T108 Chuck Finley
T109 Ismael Valdes
T110 Reggie Sanders
T111 Pat Hentgen
T112 Ryan Klesko
T113 Derek Bell
T114 Hideo Nomo
T115 Aaron Sele
T116 Fernando Vina
T117 Wally Joyner
T118 Brian Hunter
T119 Joe Girardi
T120 Omar Daal
T121 Brook Fordyce
T122 Jose Valentin
T123 Curt Schilling
T124 B.J. Surhoff
T125 Henry Rodriguez
T126 Mike Bordick
T127 Dave Justice
T128 Charles Johnson
T129 Will Clark
T130 Dwight Gooden
T131 David Segui
T132 Denny Neagle
T133 Jose Canseco
T134 Bruce Chen
T135 Jason Bere