1999 Topps Action Flats
Description
1999 Topps Action Flats were a series of 12 boxed "statues" issued by Topps to compete with Hasbro's Starting Lineups (SLU). Just like SLU's, each statue also included a card showing the photograph which was duplicated in the statue. The design of the card is identical to that of the 1999 Topps base set, but with a foil-stamped "Action Flats" logo on the front.
The packaging mentions that this was "1999 Series 1." However, a second series was never issued.
Distribution
16 Action Flats per box (MSRP: $2.99). Six boxes per case.
Reviews
Checklist
Base Set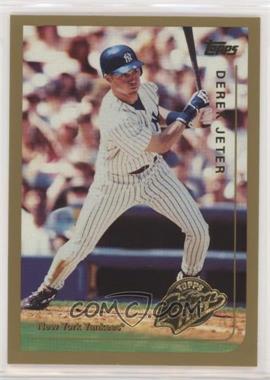 NOTE: A typical 16-pack box would include three Mark McGwire's, two Ken Griffey, Jr.'s and Sammy Sosa's, one Flat of each of the other nine players, with the sixteenth Flat being either an Away or Classic Jersey parallel (see below).
1 Barry Bonds
2 Nomar Garciaparra
3 Juan Gonzalez
4 Ken Griffey, Jr.
5 Derek Jeter
6 Chipper Jones
7 Greg Maddux
8 Mark McGwire
9 Cal Ripken, Jr.
10 Alex Rodriguez
11 Sammy Sosa
12 Kerry Wood
Parallels
All 16 Action Flats are available in the following parallels.
Away Jersey
Classic Jersey
NOTES
The Jersey parallels only apply to the statue, not the accompanying trading card.
Each 16-box case contained at least one parallel, with the Away Jersey's easier to find than the Classic Jersey's. For every three cases, collectors could expect to find two Away Jersey's and one Classic Jersey.
Just like in the base set, the McGwire, Griffey, Jr. and Sosa Away Jerseys are easier to find than the other nine players.
It appears that all 12 Classic Jerseys were produced in equal quantities.