1997 Collector's Choice Teams
Description
1997 Collector's Choice Team are a series of ten, 14-card, team sets. Unlike similar "team set" products released that year by Score and Donruss, the Collector's Choice cards were sold as sets. Each set was sold in a blister pack with 13 player cards and one team logo card.
All cards are parallels of their respective 1997 Collector's Choice base card, but are sequentially-numbered differently.
Selectively marked sets also contained one card 3 1/2" X 5" from the 1997 Upper Deck Home Team Heroes boxed set.
Distribution
Reviews
Checklist
Braves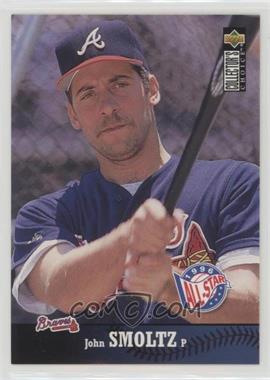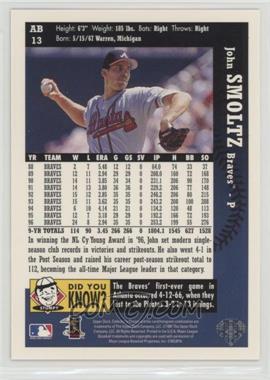 AB1 Andruw Jones
AB2 Kenny Lofton
AB3 Fred McGriff
AB4 Michael Tucker
AB5 Ryan Klesko
AB6 Javy Lopez
AB7 Mark Wohlers
AB8 Tom Glavine
AB9 Denny Neagle
AB10 Chipper Jones
AB11 Jeff Blauser
AB12 Greg Maddux
AB13 John Smoltz
AB Atlanta Braves
Orioles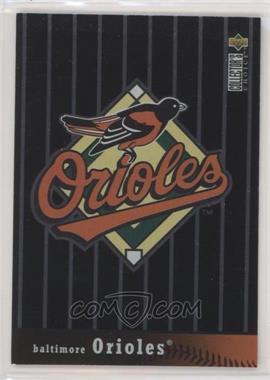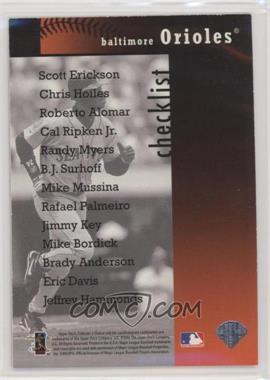 BO1 Rocky Coppinger
BO2 Scott Erickson
BO3 Chris Hoiles
BO4 Roberto Alomar
BO5 Cal Ripken, Jr.
BO6 Randy Myers
BO7 B.J. Surhoff
BO8 Mike Mussina
BO9 Rafael Palmeiro
BO10 Jimmy Key
BO11 Mike Bordick
BO12 Brady Anderson
BO13 Eric Davis
BO Baltimore Orioles
Cubs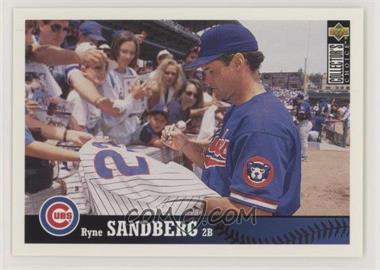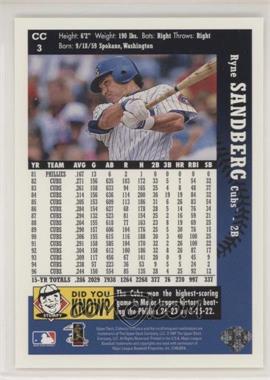 CC Chicago Cubs
CC1 Scott Servais
CC2 Sammy Sosa
CC3 Ryne Sandberg
CC4 Frank Castillo
CC5 Rey Sanchez
CC6 Steve Trachsel
CC7 Brant Brown
CC8 Shawon Dunston
CC9 Mark Grace
CC10 Brian McRae
CC11 Mel Rojas
CC12 Brooks Kieschnick
CC13 Kevin Orie
Indians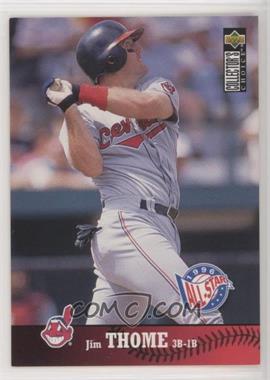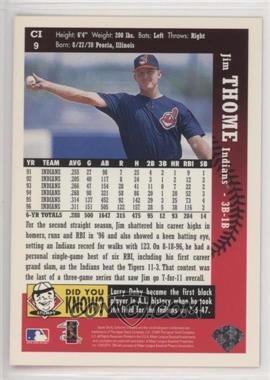 CI1 Brian Giles
CI2 Omar Vizquel
CI3 Julio Franco
CI4 Orel Hershiser
CI5 Charles Nagy
CI6 Matt Williams
CI7 Jose Mesa
CI8 Sandy Alomar
CI9 Jim Thome
CI10 Dave Justice
CI11 Marquis Grissom
CI12 Chad Ogea
CI13 Manny Ramirez
CI Cleveland Indians
Rockies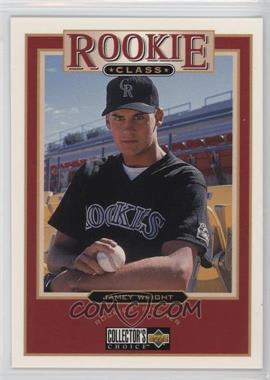 CR1 Dante Bichette
CR2 Vinny Castilla
CR3 Kevin Ritz
CR4 Larry Walker
CR5 Eric Young
CR6 Quinton McCracken
CR7 John Vander Wal
CR8 Jamey Wright
CR9 Mark Thompson
CR10 Andres Galarraga
CR11 Ellis Burks
CR12 Kirt Manwaring
CR13 Walt Weiss
CR Colorado Rockies
White Sox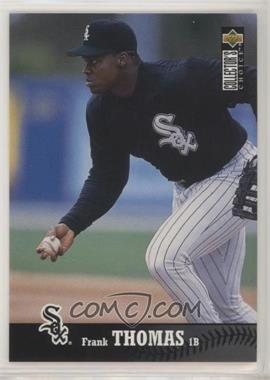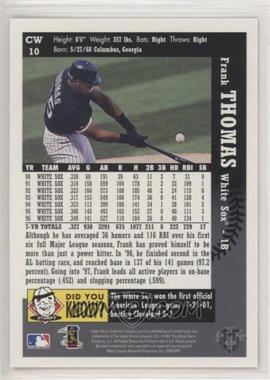 CW1 Robin Ventura
CW2 Wilson Alvarez
CW3 Tony Phillips
CW4 Lyle Mouton
CW5 James Baldwin
CW6 Harold Baines
CW7 Albert Belle
CW8 Chris Snopek
CW9 Ray Durham
CW10 Frank Thomas
CW11 Ozzie Guillen
CW12 Roberto Hernandez
CW13 Jaime Navarro
CW Chicago White Sox
Marlins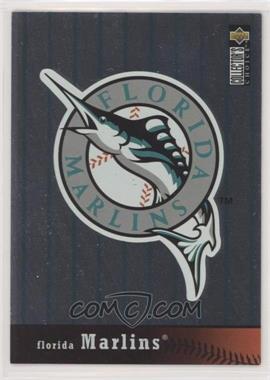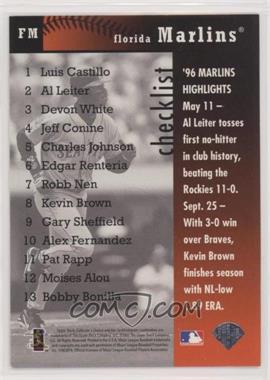 FM1 Luis Castillo
FM2 Al Leiter
FM3 Devon White
FM4 Jeff Conine
FM5 Charles Johnson
FM6 Edgar Renteria
FM7 Robb Nen
FM8 Kevin Brown
FM9 Gary Sheffield
FM10 Alex Fernandez
FM11 Pat Rapp
FM12 Moises Alou
FM13 Bobby Bonilla
FM Florida Marlins
Dodgers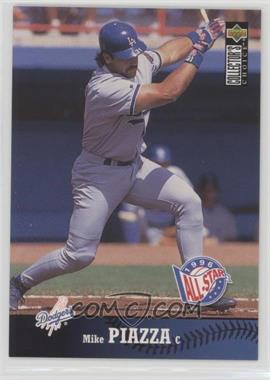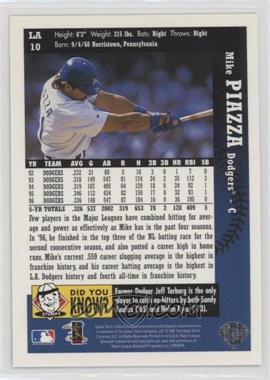 LA1 Raul Mondesi
LA2 Brett Butler
LA3 Todd Hollandsworth
LA4 Eric Karros
LA5 Hideo Nomo
LA6 Ismael Valdes
LA7 Wilton Guerrero
LA8 Ramon Martinez
LA9 Greg Gagne
LA10 Mike Piazza
LA11 Chan Ho Park
LA12 Todd Worrell
LA13 Todd Zeile
LA Los Angles Dodgers
Yankees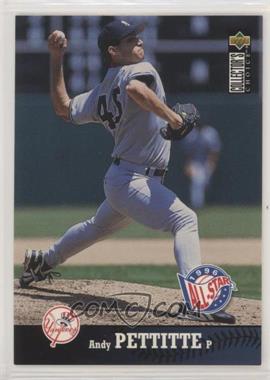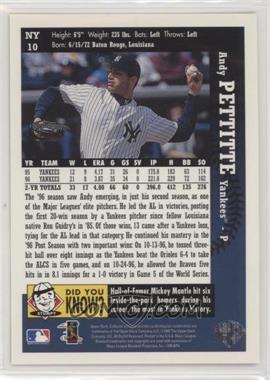 NY1 Bernie Williams
NY2 Dwight Gooden
NY3 Wade Boggs
NY4 Ruben Rivera
NY5 Derek Jeter
NY6 Tino Martinez
NY7 Tim Raines
NY8 Joe Girardi
NY9 Charlie Hayes
NY10 Andy Pettitte
NY11 Cecil Fielder
NY12 Paul O'Neill
NY13 David Cone
NY New York Yankees
Mariners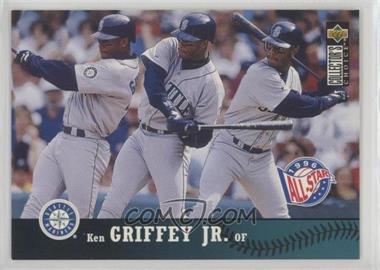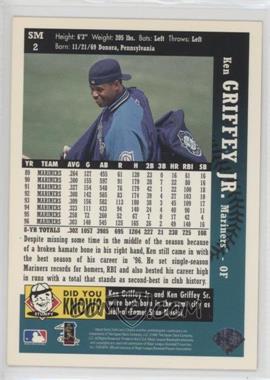 SM1 Dan Wilson
SM2 Ken Griffey, Jr.
SM3 Edgar Martinez
SM4 Joey Cora
SM5 Norm Charlton
SM6 Alex Rodriguez
SM7 Randy Johnson
SM8 Paul Sorrento
SM9 Jamie Moyer
SM10 Jay Buhner
SM11 Russ Davis
SM12 Jeff Fassero
SM13 Bob Wells
SM Seattle Mariners
Rangers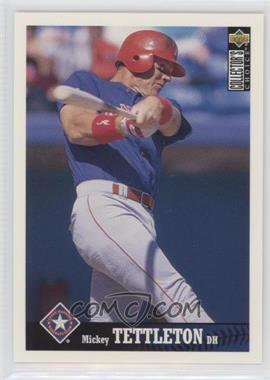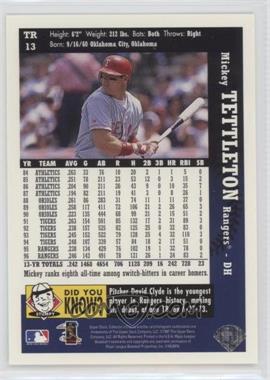 TR1 Bobby Witt
TR2 Darren Oliver
TR3 Rusty Greer
TR4 Juan Gonzalez
TR5 Will Clark
TR6 Dean Palmer
TR7 Ivan Rodriguez
TR8 John Wetteland
TR9 Mark McLemore
TR10 John Burkett
TR11 Benji Gil
TR12 Ken Hill
TR13 Mickey Tettleton
TR Texas Rangers
Collector's Choice
Other Collector's Choice Brands: