1993 Fleer Fruit of the Loom
Description
1993 Fleer Fruit of the Loom All-Stars was a 66-card set released in specially-marked packages of men's and boy's underwear produced by the Fruit of the Loom company. One of the tougher food/retail issues of the era, each package contained six cards from the set, which featured the top players in the game at the time.
The cards were identical to the 1993 Fleer set but had a Fruit of the Loom logo on the front for distinction.
Distribution
Six cards in specially-marked packages of Fruit of the Loom underwear for men and boys.
Insertion Ratios
| Cards | Total Cards | Numbered To | Odds |
| --- | --- | --- | --- |
| Base | 66 | - | 6:1 |
Checklist
Base Set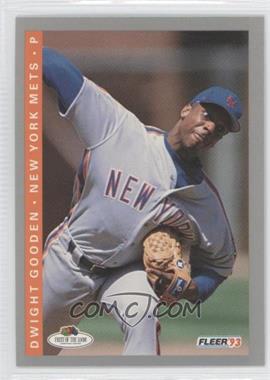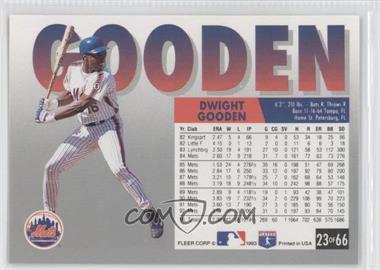 1 Roberto Alomar
2 Brady Anderson
3 Jeff Bagwell
4 Albert Belle
5 Craig Biggio
6 Barry Bonds
7 George Brett
8 Brett Butler
9 Jose Canseco
10 Joe Carter
11 Will Clark
12 Roger Clemens
13 Darren Daulton
14 Andre Dawson
15 Delino DeShields
16 Rob Dibble
17 Doug Drabek
18 Dennis Eckersley
19 Cecil Fielder
20 Travis Fryman
21 Tom Glavine
22 Juan Gonzalez
23 Dwight Gooden
24 Mark Grace
25 Ken Griffey, Jr.
26 Marquis Grissom
27 Juan Guzman
28 Tony Gwynn
29 Rickey Henderson
30 Dave Justice
31 Eric Karros
32 Chuck Knoblauch
33 John Kruk
34 Ray Lankford
35 Barry Larkin
36 Pat Listach
37 Kenny Lofton
38 Shane Mack
39 Greg Maddux
40 Dennis Martinez
41 Edgar Martinez
42 Ramon Martinez
43 Don Mattingly
44 Jack McDowell
45 Fred McGriff
46 Mark McGwire
47 Jeff Montgomery
48 Eddie Murray
49 Charles Nagy
50 Tom Pagnozzi
51 Terry Pendleton
52 Kirby Puckett
53 Jose Rijo
54 Cal Ripken, Jr.
55 Nolan Ryan
56 Ryne Sandberg
57 Gary Sheffield
58 Bill Swift
59 Danny Tartabull
60 Mickey Tettleton
61 Frank Thomas
62 Andy Van Slyke
63 Robin Ventura
64 Larry Walker
65 Robin Yount
66 Checklist 1-66