1990 Fleer Award Winners
Description
1990 Fleer Award Winners is a 44-card boxed set produced Hill's stores. This was the final year Fleer would produce these boxed sets.
Distribution
44-card boxed set, with six team logo stickers (MSRP: $2.49).
Reviews
Checklist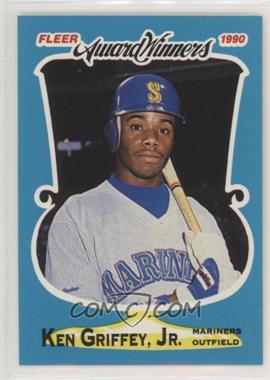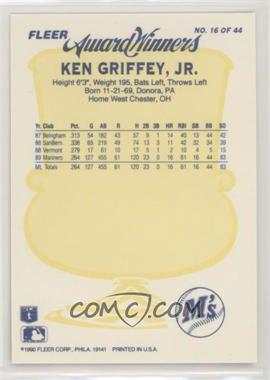 NOTE: Card #10 is listed on the box checklist as being Ron Darling, but Darling is not in the set. Consequently the numbers on the box checklist between 10 and 37 are off by one. Darryl Strawberry is not listed on the box, but is included in the set as caRD #38.
1 Jeff Ballard
2 Tim Belcher
3 Bert Blyleven
4 Wade Boggs
5 Bob Boone
6 Jose Canseco
7 Will Clark
8 Jack Clark
9 Vince Coleman
10 Eric Davis
11 Jose DeLeon
12 Tony Fernandez
13 Carlton Fisk
14 Scott Garrelts
15 Tom Gordon
16 Ken Griffey, Jr.
17 Von Hayes
18 Rickey Henderson
19 Bo Jackson
20 Howard Johnson
21 Don Mattingly
22 Fred McGriff
23 Kevin Mitchell
24 Gregg Olson
25 Gary Pettis
26 Kirby Puckett
27 Harold Reynolds
28 Jeff Russell
29 Nolan Ryan
30 Bret Saberhagen
31 Ryne Sandberg
32 Benito Santiago
33 Mike Scott
34 Ruben Sierra
35 Lonnie Smith
36 Ozzie Smith
37 Dave Stewart
38 Darryl Strawberry
39 Greg Swindell
40 Andy Van Slyke
41 Tim Wallach
42 Jerome Walton
43 Mitch Williams
44 Robin Yount