1987 Topps Boardwalk & Baseball
Description
1987 Topps Boardwalk & Baseball is a 33-card boxed set available only at the then recently-opened Boardwalk & Baseball theme park in Haines City, Florida. The set's theme is that of the "Top Run Makers" and features that top 33 players in a pre-Sabermetric statistic called "Runs Produced Average." As a result, there are no pitchers in the set.
Some early sets were produced without the slash in the "B/B" logo on the card's front.
Distribution
Boxed set, exclusive to the Boardwalk & Baseball theme park.
Reviews
Checklist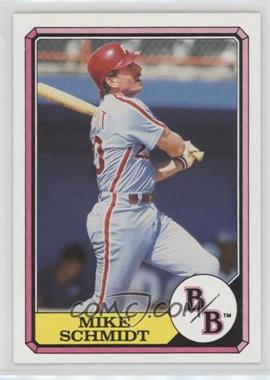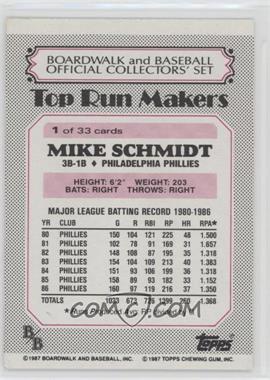 1 Mike Schmidt
2 Eddie Murray
3 Dale Murphy
4 Dave Winfield
5 Jim Rice
6 Cecil Cooper
7 Dwight Evans
8 Rickey Henderson
9 Robin Yount
10 Andre Dawson
11 Gary Carter
12 Keith Hernandez
13 George Brett
14 Bill Buckner
15 Tony Armas
16 Harold Baines
17 Don Baylor
18 Steve Garvey
19 Lance Parrish
20 Dave Parker
21 Buddy Bell
22 Cal Ripken, Jr.
23 Bob Horner
24 Tim Raines
25 Jack Clark
26 Leon Durham
27 Pedro Guerrero
28 Kent Hrbek
29 Kirk Gibson
30 Ryne Sandberg
31 Wade Boggs
32 Don Mattingly
33 Darryl Strawberry